Women's Bible Study
A new women's Bible study will start Tuesday, October 10 and be hosted at Laura Kight's house. The class is facilitated by Rebecca Dean. We will be working our way through Jonah: Navigating a Life Interrupted by Priscilla Shirer. You can register online, there is a sign-up in the narthex, or you can contact Rebecca Dean for more information at rdean@bhumc.org.
"For the Faint of Heart—Hope for the Hurting"
First and third Thursdays beginning September 7
6:30 p.m.–7:30 p.m. at Brook Hill in Room C
Cost: $10 for the book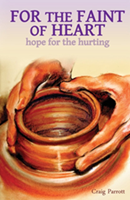 "For the Faint of Heart" provides a wonderfully fresh perspective to an old topic: how to deal with the struggles and setbacks of life. It should be read by any Christian who needs encouragement and who wants to be a source of encouragement to others.
Chapter titles included in this class:
Why me, God?
Does God Really Answer Prayer?
Why Did God Allow Evil to Happen?
Our Stephen Ministers at Brook Hill will also attend this class. Sign up in the narthex or contact one of the leaders. The course is led by Sue Koch (ps.koch@comcast.net), Pastor Dana Werts (301-662-1727), Elaine Luttrell (240-357-0178), Ron Lindsay (rlindsay042@gmail.com) and Ken Michaels (ken.m@comcast.net).
Table Talk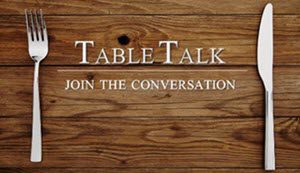 A four-week session of Table Talk began Sunday, September 10. The theme is "Lean on Me." Our potluck dinners start at 6:00 p.m. with break-out groups beginning at 6:45 p.m. This event is for the whole church, young and old alike.
September 10: Lean On Me: For Purpose
Jeremiah 29:11–13
September 17: Lean On Me: For Love
1 John 4:16–19
September 24: Lean On Me: For Grace
Ephesians 2:1–10
October 1: Lean On Me: For Growth
Psalm 121:1–4
Disciple
On September 11, Disciple 1 classes began from 7:00 p.m. to 9:00 p.m. in room B. Disciple is a program of disciplined Bible study aimed at developing strong Christian leaders. The study gives the Old and New Testaments equal time, emphasizing the wholeness of the Bible as a revelation of God. Disciple draws upon the work of scholars, the personal Bible reading and study of the participant, and dynamic group discussion to aid understanding of the Bible. The first study in the program is Disciple: Becoming Disciples Through Bible Study, a 34-week overview of the entire Bible. You can register online, a sign-up sheet is in the narthex, or you may contact Rebecca Dean at rdean@bhumc.org to register.
The Women of Easter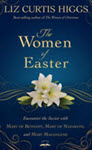 Sandi Coblentz is hosting her fall Bible study once again this year. It started September 14 and takes place on Thursday evenings in the Prayer Room. The book is Women of Easter by Liz Curtis Higgs. You can register online, there is a sign-up sheet in the narthex, or you can contact Rebecca Dean at rdean@bhumc.org for more information.
Praying for Wisdom
Search the scriptures, dictionaries, and commentaries through a time of fellowship to explore more about wisdom during this three-week, two-hour BYOL (bring your own lunch) gathering in Room C. The class begins October 8 at 12:30 p.m. and is presented by the Healing Prayer Ministry. Get wisdom when you've got the blues for "If any of you lacks wisdom, you should ask God, who gives generously to all without finding fault, and it will be given to you" James 1:5 (NIV). We live in an information society where knowledge abounds so why do we need wisdom? What is it and where can we find it? What is the Spiritual Gift of Wisdom?  For more information contact Sherry Crockett at 301-639-9154 or e-mail SCrockett.UMC@gmail.com.
Financial Peace University

Financial Peace University (FPU) is coming back to Brook Hill! This is a nine-week class will be held Tuesday evenings beginning October 17 from 6:30 p.m. to 8:30 p.m. Come learn Biblical principles to getting out of debt, managing your money, and saving for the future. You'll learn how to take control of your finances and how marketing impacts your buying decisions. You'll learn about different types of insurance and coverage, college and retirement planning, real estate and mortgages, and more. Engaged or married couples must attend together. Cost for first-time attendees is $77.50 per family. Graduates are eligible to take FPU once a year for free. Please dig out your FPU kit and come join us. Childcare is available for those who request it. You may sign up in the narthex or sign up online.