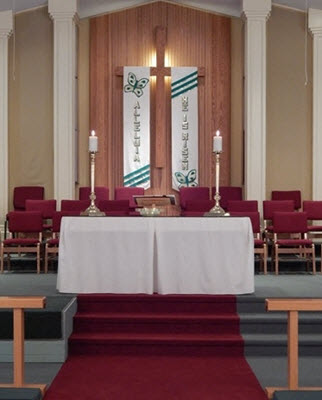 Brook Hill United Methodist Church gathers for three worship celebrations each Sunday morning. Our pastors share relevant, Bible-based messages to proclaim the good news of God's grace through Jesus Christ. We celebrate the sacrament of Holy Communion on the first Sunday of each month at all three worship celebrations.
Traditional Worship
8:00 a.m. and 11:00 a.m.—Our traditional worship celebrations celebrate the best of our Wesleyan heritage with praise, music, prayer, and proclamation. The organ/piano joins voices singing the hymns of our faith as various choirs and ensembles provide musical leadership. A warm and welcoming congregation greets one another, shares their joys and concerns, and seeks God's will for their lives and for our church. All are invited to join as we offer our praise and worship to the Lord.
Nursery care is available on the lower level during the 11:00 a.m. worship service.
Casual Worship
9:30 a.m.—Our casual worship offers a comfortable and energetic opportunity for praise and worship. Led by our pastors and the Worship Praise Team, the Brook Hill congregation comes together to sing contemporary Christian music, to pray together, and to hear God's Word for us today. Lyrics and multimedia are projected on two large screens for all to follow along. Whether new to the Christian faith or a more seasoned disciple, all are welcome to come connect with God and each other in this time of worship.
Nursery care is available on the lower level during the 9:30 a.m. worship service.
Spanish Service
12:30 p.m.—Our Hispanic ministry holds worship at Brook Hill beginning at 12:30 p.m each Sunday. The Hispanic pastors have also started several home "church" groups targeting different Hispanic cultures, which meet throughout the week. Please be in prayer for this ministry reaching into our community with the good news of Jesus Christ.
Learn more about the Hispanic-Latino Ministry at Brook Hill.
Downtown Christian Fellowship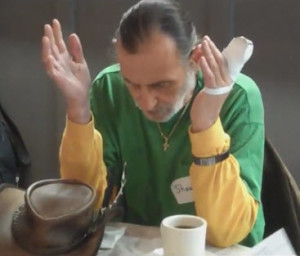 Brook Hill's Downtown Christian Fellowship meets on Saturdays at 10:30 a.m. at The Blue Side (formerly Bentz Street Raw Bar), 6 South Bentz Street, Frederick, Maryland.
This table-based worship gathering began in October 2015, with the aim of creating a downtown faith community. Our hope is to bring suburbanites and urbanites together for fellowship, worship, Bible discussion, and encouragement.
Our mission is to be disciples who make disciples who live and love like Jesus.
We invite people to join us on a 4-step discipleship journey:
Personal salvation emphasizing Jesus as our Master;
Spiritual disciplines of prayer and Bible study;
Healthy relationships with believers and others;
Discovering our gifts and finding a place to serve.
Watch a video about the Downtown Christian Fellowship. Interested? Contact Pastor Gary Hicks at caedmullen@gmail.com or call 240-439-9013.
Children Attending Worship Service
To the parents of young children…God put the wiggle in children; please don't feel you have to suppress it in God's house. All are welcome! Sit toward the front where it is easier for your little ones to see and hear what's going on. Quietly explain the parts of the service and actions of the pastor, ushers, choir, etc. Help them follow along with the scripture and lyrics by pointing to the printed text. Sing the hymns/songs, pray, and voice the responses. Children learn liturgical behavior by copying you. If you have to leave the service with your child, feel free to do so. Drop them off in the nursery if desired, but please come back. As Jesus said, "Let the children come to me." Remember that the way we welcome children in church directly affects the way they respond to the Church, to God, and to one another. Let them know that they are at home in this house of worship.
To the members of our church…the presence of children is a gift to the Church and they are a reminder that our congregation is growing. Please welcome our children and give a smile of encouragement to their parents.
In this section: