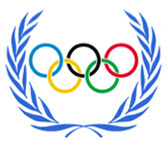 Start forming your teams now (kindergarten and up) and get ready for the 2018 Winter Olympic Games on January 28 from 5:00 p.m. to 8:00 p.m.! Teams will be participating in synchronized figure skating, bobsled racing, team skiing, and curling—all in the Life Activities Center!
We recommend team sizes of 5–6 people (a minimum of three to participate in all events). Don't have enough people for a full team? You can still come and join a team that night! Each team is asked to pick a country and sign up to represent that country (yes, you can choose to represent the United States) or you can make up your own country!
This event is for everyone! You do not have to participate in the sports to come on out and have fun. Don't want to participate in the events? You don't have to—come on out and cheer for everyone!
The evening will start with a potluck. Teams are encouraged to bring dishes their country is known for. Not on a team but still want to cook? You can bring a dish representing your favorite country! Brook Hill will provide fried chicken and drinks. After the potluck, the nursery will be available for children (newborn through kindergarten). Of course, they can stay and cheer their teams on if you wish.
Sign up online or visit the table in the narthex.
Questions? Please contact Rebecca Dean at rdean@bhumc.org or 301-662-1727.